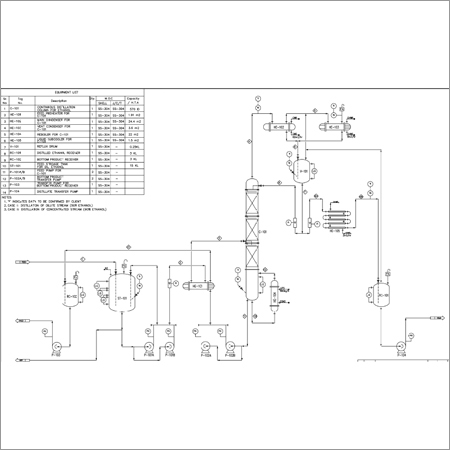 Distillation Equipment System
Product Code : 14
Product Description
Distillation Equipment System
Distillation is a process via which various component substances (fractions) are effectively separated from the whole (liquid mixtures). The separation process takes place through vaporization and condensation. Taking into consideration the fact that substances (fractions) of liquid subjected to distillation process might have different temperate for vaporization, we bring forth a range of Distillation Equipment System that are engineered to perfection to facilitate the vaporization and condensation process. Our offered Distillation Equipment System also aids in effective removal of the various condensates present in the liquid mixtures. The process eliminates fractions of whole and is therefore termed as fractional distillation.
Why Use Distillation Equipment System manufactured by Zinoy Equipments?
We have expertise in offering complete distillation system or we can even deliver individual equipment to facilitate the distillation process
All equipment are expertly engineered in high grade carbon steel or stainless steel
Equipment made aligns with your exact drawings and specifications
Strident quality control methods are followed at all stages of equipment design
Manufactured in line with standards underlined by ASME
Complete and professional supply of required Pipes & Valves for the plant
We provide you wide choice in automation components manufactured by renowned brands
All kind of service assistance rendered in installing the systems
Distillation System Description
The Distillation System is designed keeping in mind factors like the nature of the feed (liquid that requires distillation) and desired products (condensate). Our experts trained under our wings design these distillation systems as per your specific requirements.
A standard distillation system embeds the following equipment
Kettle Reboiler
Distillation Column
Main Condenser
Product Cooler
All the above-mentioned equipment can be supplied individually or can be readily delivered as a complete system. Parts designed can used in distillation system or solvent recovery system or can be utilized as a complete system for Ethanol distillation. Our area of expertise also includes manufacturing distillation system for meeting to precision all your proprietary distillation process.
Individual equipment of distillation system Zinoy Equipments manufactures:
Kettle Reboiler

Distillation is a process via which the vaporizing vapor is collected by the condensation process. The equipment known as Kettle reboiler we design helps in vaporizing the liquid to be distilled. The equipment has an U tube bundle that is inserted into the cattle. The tube bundle circulates the heat media, which leads to effective heat transfer to the liquid placed inside the kettle.
Distillation Column

The Distillation column we design is made using finest quality components as it is considered the heart of the distillation system. The vapor that is created in kettle reboiler gets duly condensed in this distillation column. When distillation process is on, the fractional distillation column separates the fractions by means of repeated vaporization-condensation cycles. These cycles are repeated within distillation column. Employing our manufacturing excellence, we can offer you different variants in both packed and non-structured column.
Condenser

The liquid that needs to be distilled gets partly condensed in the distillation column, whereas the remaining vapor that is uncondensed gets condensed in the condenser. The condensers are in the form of a shell & tube condenser. Vapor is present in the shell whereas the tubes hold water.
Other accessories and supporting equipment are also provided along with this product. This may include accessories like reflux drum, product cooler, vent condenser, a return line, etc. these are supplied in sync with your process requirement.
Vent Condenser
Partly condensed vapor from the condenser gets further condensed in this vent condenser.
Reflux Drum
A small part of condensate gets collected and accumulated in the reflux drum. This is then returned to the distillation column (upper part). The reflux liquid inside the column moving downwards provides cooling and condensation of the vapors that move upwards.
Product Cooler
Product Cooler we design and supply further aids in the cooling process. It is usually used in cases where product gathered from the condenser requires further cooling.
Product Receiver
The final condensed products get collected in the product receiver. This being a vital component of the distillation system can be offered as per your exact specifications and demands.
Contact Us
A-18, Jay Mangal Murti Chs Ltd, Kanjur Village road, Kanjur Marg (East), Mumbai, Maharashtra, 400042, India
Phone :+917259502150